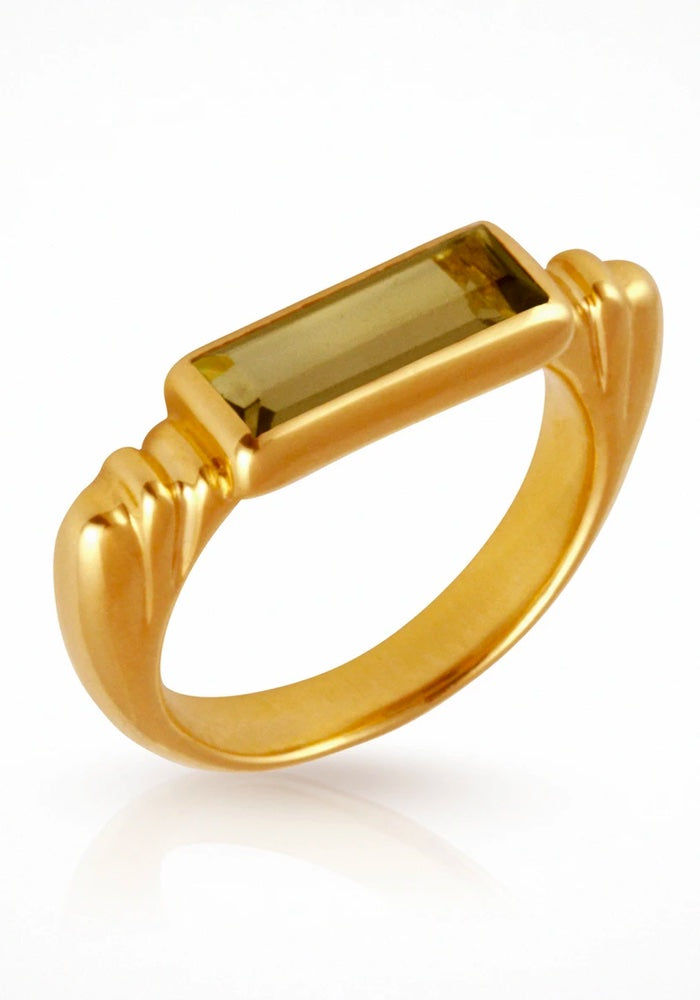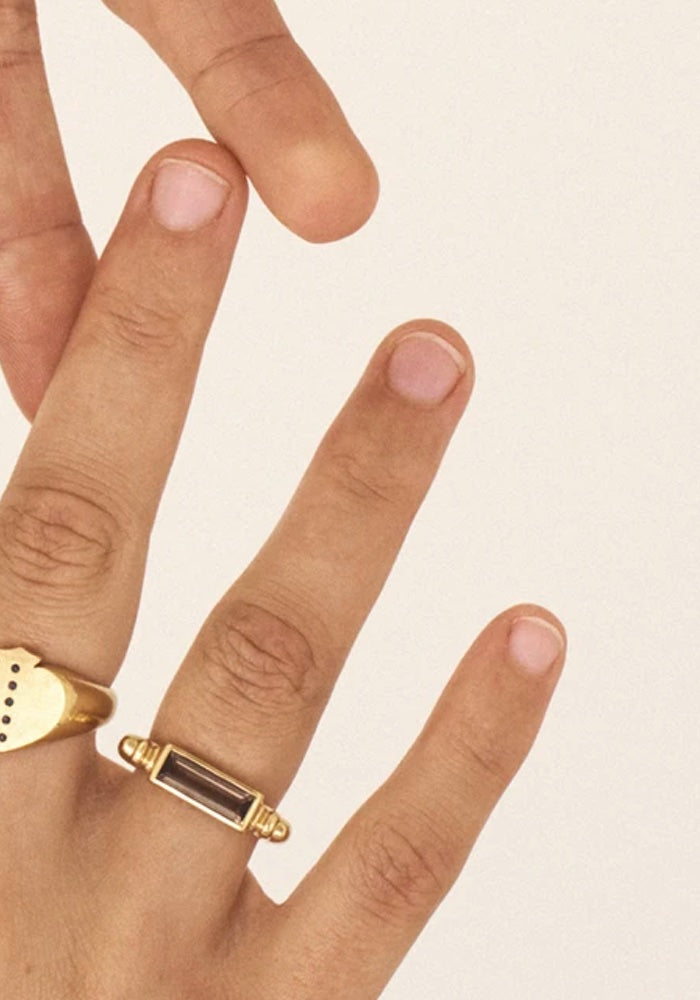 Description
Temple of the Sun is one our favourite Byron jewellery labels.  Phoebe was known as the Titan Goddess of prophecy, radiance and shining light. She bestowed upon the chosen, a brilliant intellect that the Ancient Greeks viewed as the gift of prophecy.
The Phoebe Ring in 18k Polished Gold Vermeil is set with a smoky quartz baguette. This beautiful gem is often associated with anchoring ones energy in the natural world; a place of strength, power and stability from which to grow, radiate and shine.
Stone Properties 
In the realm of dark stones, Smoky Quartz offers rare and beautiful transparency, drawing light into shades of black and brown. Infinitely diverse and mysterious, with crystals as pale and surreal as a wisp of smoke, as dark and still as midnight waters or as warm and rich as cognac; this mineral honours its connection with Mother Earth. It is a talisman of the Root Chakra, an anchor in the natural world.
Smoky Quartz draws light energy from the Crown Chakra down through the body to be deeply rooted in the physical plane. It initiates movement of primal forces within the body and activates one's survival instincts, bringing strength and stability. Smokey Quartz brings us home.
Temple Jewellery
All of our Jewellery is hand-made according to the highest quality and our craftsmen are certified to meet global standards of environmental and social responsibility.
Our Gold Vermeil jewellery is hand-made from ethically sourced 925 Silver, finished with a high quality 2.5 Micron thick layer of 18K Gold plate ensuring the rich gold lustre is retained longer.
Sustainable packaging
We believe that every little bit helps, which is why we've posted all our parcels inBetter Packaging's 100% certified compostable and biodegradable Dirt Bagssince 2019. In this time, we've sent over 40,000 orders via compostable bags.