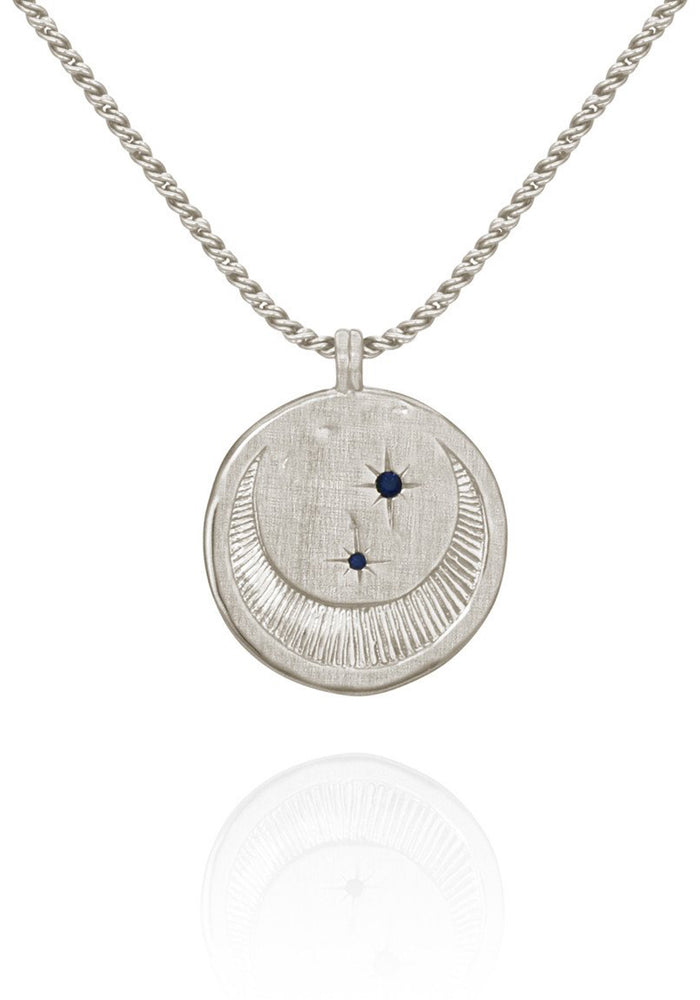 Description
Introducing Celeste Necklace from Temple of the Sun, A stunning fine 18K gold vermeil chain necklace with a brushed gold pendant that reminds you of an ancient coin.

STONE PROPERTIES:
London Blue Topaz Stones have healing qualities of cooling tempers, calming nerves, and helping with emotional balance and tranquility. Partly due to its calming and stabilizing ability, coupled with an ability to enhance creativity, this stone is especially good for communication and for artists in all media.
Blue Sapphire gemstones represent purity, love, luck, self-appreciation, intuition and balance. Blue Sapphire brings the wisdom of confidence in one's own intuition. It is protective and grounding, relieves anxiety and sorrow, and is a talisman for seeking.

MAX LENGTH: 46cm, can also be worn at 41cm
ELEMENT: Ethical Sterling Silver
PENDANT: 2mm Diameter silver disc pendant
PACKAGING:
Supplied in luxury Temple of the Sun wallet 
ELEMENTS:
All of our Jewellery is hand finished according to the highest standard and our craftsman are certified to meet global standards in environmental management, social responsibility, and workplace safety.


Our 18K gold Vermeil is tested to 2.5 micron thick over a base of 925 Sterling Silver ensuring a durable and long lasting lustre.
Sustainable packaging
We believe that every little bit helps, which is why we've posted all our parcels inBetter Packaging's 100% certified compostable and biodegradable Dirt Bagssince 2019. In this time, we've sent over 40,000 orders via compostable bags.